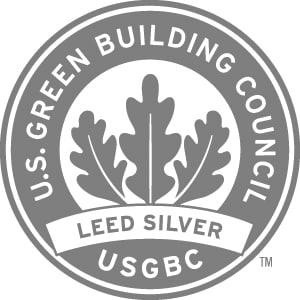 It's Official!
  Fields Volvo Cars has been awarded LEED Silver Certification by the U.S. Green Building Council.
Fields Volvo Cars is Volvo North America's first LEED Certified facility, and the newest addition to the Fields Auto Group's award winning family of dealerships.
Our customers expect quality and performance from the cars we sell. Now they can expect the same quality from the service and facilities we operate. LEED Certification is the benchmark for environmental performance and design, and our new facility at 770 Frontage Road in Northfield is a shining example of quality design and performance worthy of the Volvo name.
When it comes to fuel economy our building is as efficient as the cars we sell. Our new facility uses 35% less energy than a normal building of its size. We generate over 5% of our electricity needs annually from solar panels located on the roof of our facility and from the wind turbines mounted in our rain garden next to the service lounge.
When it comes to water, we do our share not to waste a precious community resource. Our facility will collect almost 468,000 gallons of rainwater a year and uses that water to flush toilets and irrigate the site. We are able to reduce the amount of public water we use by a whopping 81%! You can see the water storage tanks outside our facility, and there is an additional tank under the garden that allows Northfield Volvo to store 14,000 gallons of rainwater at a time.
Not only do we harvest rainwater to use in our facility, but we also have installed low-flow plumbing fixtures to conserve as much water as possible. Together, these systems help Northfield Volvo save water and money while helping the community and the environment.
Good design, safety, and quality construction are hallmarks of Volvo automobiles. Our new facility reflects the same commitment to design, safety and quality.
Our new building is designed to take advantage of natural daylight, and uses advanced lighting technology to showcase our cars and create a pleasing environment. We use high efficiency fluorescent and LED lighting, sensors and controls, and provide daylight throughout the facility. The building is heated and cooled using highly efficient equipment in ways that provides comfort to customers and employees, all controlled by a system designed to save energy.
Our new building is healthy and safe by design. We made sure to use materials that are non-toxic and promote good indoor air quality. During construction, we followed a plan designed to protect workers and employees, as well as the building itself from mold, moisture and contaminates. The materials and finishes we chose for our new facility release little or no contaminates that pollute the building.
We worked closely with our design team and general contractor to insure that the construction of our new facility met high standards for quality and environmental responsibility. 95% of the building waste generated during the construction of our new facility was recycled and diverted from going to a landfill, and over 26% of the materials used in the building have recycled content.
51% of the materials came from local and regional manufactures, which reduces the pollution caused when shipping materials and helps support our regional economy. We made sure that most of the wood used throughout the building came from certified sources that sustainably manage and protect our forests.
Fields Auto Group is proud of our award for environmental responsible design and construction of our new Northfield Volvo dealership. LEED Silver Certification demonstrates our commitment, as well as Volvo North America's commitment to providing our customers the quality and performance they expect. We invite you to come see our new facility for yourself. Tour our building, take a test drive, and see why Fields Northfield Volvo Cars is a leader in sales and service; and now a leader in environmental responsibility.