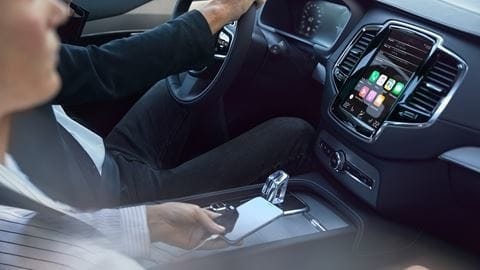 At Fields Volvo Northfield, your trusted Volvo dealer serving Libertyville, innovation is a pillar of bringing our customers quality vehicles. With that in mind, we would like to inform you of some tech features that are right around the corner, and others that are already here.
Remote Start Apps
When most people walk out the door, they check to make sure they have the essentials - car keys, phone, and wallet. What if you could condense two of those? Modern technology allows for your car to be unlocked or even started all from an app on your phone. It's not only convenient, but it also gives you one less thing to worry about keeping track of. As minor as it seems, it's absolutely paramount when you need it.
Self-Driving
The automotive industry has been working toward self-driving cars for decades. Especially large leaps have been made in the last few years with park assist features and automatic emergency braking. There is even a feature currently available that will autonomously steer the vehicle away from a collision. When all these systems work together, they add up to a car that effectively drives itself. While there is a lot more testing and tweaking required before there's a self-driving car in every driveway, the technology exists right now.
Easier Bluetooth®
Pairing your phone with your car allows you to instantly personalize your vehicle's entertainment as well as make hands-free phone calls. While that pairing process has consistently gotten easier, technology has made it as easy as a tap on the dashboard. Sure, having the car send a signal for your phone to look for and pair with, after putting in a password, isn't the hardest thing in the world. But, bypassing it for a quicker connection is definitely better.
These are just a few of the tech features available in Volvo cars like the 2018 Volvo XC90. Stop into Fields Volvo Northfield to find out more!